Vacation Gallery
Please feel free to post your favorite pic. Don't forget to leave a message also.
Thanks Blue Moon Cruises.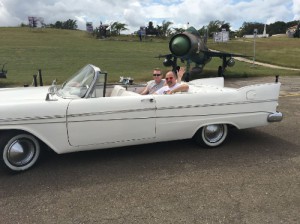 My Cuba Experience.
As I'm sure many of you know, Cuba is now a destination that the US and Cuban governments allow. I've been wanting to see Cuba for a long time and my partner and I decided to venture out and see what Cuba has to offer.
There are a variety of ways that you can visit the Island, and since I've sailed on many cruises I decided that cruising would be the easiest way. Celestial Cruises offers a 7 night option that leaves out of Montego Bay, Jamaica. They leave every Friday making four stops in Cuba with an overnight stop in Havana, the capital of Cuba. Any US citizen who wants to take this cruise must participate in the People to People cultural exchange program. This costs $95.00 per person and is a great value as it includes a number of shore excursions in each port as well numerous lectures onboard.
The Cuban people that we interacted with were very friendly and welcoming. They want more Americans to vacation on the Island and are eager to please. As a travel experience I was thrilled that I had the opportunity to take this cruise and would recommend it, BUT you must do this with open eyes. Cuba has a long way to go to bring the infrastructure up to the standards that many of us are used to. If you go to Cuba do not expect to find many of the things we as American Citizens take for granted.
As an internet junkie myself I went into major internet shock when I found out that the internet is not generally available around the Island, and in the few places it is available it is expensive and slow. What we were told was that you can go anywhere you want online (when you get it) but remember that there is always someone looking. That was a quote from a local. I am so used to being able to jump on and off Facebook, but that's not going to happen in Cuba.
We made four stops around Cuba – Santiago de Cuba, Havana, María la Gorda and Cienfuegos. In each of the stops People to People provided a couple of shore excursions, and if the time allowed they had one in the morning and one in the afternoon. The guides they provided were friendly and knowledgeable. They talked a lot about the Castro brothers and the revolution. Some of it was interesting, but there is a lot of propaganda as well. It's a shame what the Castro brothers have done to this country. Like many things they started off with good intentions but they held onto power, and while doing that they caused a lot of damage to the infrastructure.
Cuba Cruises has a great product here but they need to update the ship. The ship was built in the 80's and has gone through many name changes. The ship has been updated but it is not ready for the US market. The food was mediocre at best and the service was spotty. I've never sailed on a cruise and had the crew actually argue with passengers even if they were wrong. The ship offers drink packages but they can be very confusing. They have 6 or 7 different packages. That needs to be simplified. Even the crew had trouble with the different programs. I had two arguments with two of the crew when they tried to charge me extra because they never checked the package we had. Now I can't say that all the staff were bad because they weren't. Many of them did an excellent job but the bad eggs un-did anything that the others could do. I believe that the European and Canadian market can be very forgiving (I was born in England), but this ship needs to be seriously upgraded if they want to attract more of the US market.
To sum this up, I would say that the experience was amazing, and I would go back to Cuba. If the Castros keep to their commitment and allow the country to be opened back up I believe that it's going to be a great destination. Cuba is not ready for a major influx yet, but they will be. If you want to see Cuba now do it with open eyes. Go to an agent (hopefully Blue Moon) who has been to Cuba. They have the experience and can direct you to the best choice for you. I do not believe that Cuba will be ready for at least 10 more years. I'm not saying don't go; I'm just saying know before you go.

Great times, great memories.  Merci Stuart you've done it again. Thanks to you our trip to Paris was magnifique!!